Friday, March 11 2011
Help with Japanese translation
Can someone tell me what this print reads? I tried to figure it out using the kanji lookup feature of nihongodict, but failed miserably. Click the image for a larger view.

Posted by: Jordi Vermeulen at 20:58 | Comments (2) | Add Comment
Post contains 35 words, total size 1 kb.
Monday, April 05 2010
In the Pipeline #2
Long time, no posts...
I will not bore you all with the reasons why it has been so quiet here, the bottom line is that my time has been extremely limited as of late. My schedule should be clearing up a little from now on, so here's a couple of things I'm planning to post about.
As far as anime goes, I finished watching
Death Note
a while back, and I believe I still have reviews of
Summer Wars
and
Cowboy Bebop
due. I have decided not to write a review of
Love Hina
, as that would require me to rewatch the series yet again, which is not something I want to do right now. I do not rule out the possibility of a post on this series in the future though.
As for series I'm currently watching: I watched the first four episodes of
Seikon no Qwaser
, in which I like the idea of manipulating certain metallic elements, but the milk vampirism may cause me to drop this series. A while back I started watching
Serial Experiments Lain
, but after three episodes it become too much for me to handle, so I have put that series on ice for a while. I watched the first four episodes of
To Aru Majutsu no Index
, but so far it has failed to incite much interest in me, so I keep putting it off. I also watched the first three episodes of
Chu-Bra!!
and the first episode of
Ladies versus Butlers
, but I highly doubt I'll be watching more of either of those.
One series I have been following with great interest is
Fairy Tail
. To my delight ANN now lists 36 episodes, as opposed to the previous 24. So far I have watched the series up to episode 23, I will definitely be posting more on this.
In other news, we finally had some days with nice weather, so I had some opportunity to take my camera out. I have quite a bit of pictures already, so I'll probably post a bunch later. I also (finally) played Assassin's Creed 2, which I enjoyed so much I think I'll throw in a review of that as well, or at least a somewhat less formal post on the subject. Furthermore I have been watching the
Zatoichi
series and both the
Battle Royale
films, which I might dedicate a post to.
That's pretty much it for now, do not expect any posts on the very short term, stuff will most likely start appearing next weekend at the earliest.
Posted by: Jordi Vermeulen at 23:41 | Comments (3) | Add Comment
Post contains 428 words, total size 3 kb.
Tuesday, March 09 2010
New Camera
Three weeks ago I ordered a camera and two lenses, which arrived yesterday morning. The contents of the package are posted below (click on the images for larger size).
A Nikon D90. For obvious reasons I cannot take a picture of the body, so I found this one instead (imagine it without the lens; I have no idea why it is put to show those settings on the screen, there is a little screen on top which shows just that). It's main specifications are that it has 12.3 MP, shutter speeds from 1/4000 to 30 seconds, can shoot up to 4.5 fps, an ISO range from 200-3200 (it can go down to 100 and up to 6400, but with less precision) and an 11-point auto-focus. Oh, and it can also shoot 720p video.
A Nikkor 50mm f/1.4 lens. The large maximum aperture means you can get some crazy depth of field effects. It came with a soft cloth bag for storage and a simple round lens hood.
A Sigma 70-200mm f/2.8 lens. The large maximum aperture over the entire zoom range is really nice, it allows me to take pictures with high magnification from far away even when it's somewhat dark outside. It came with a much more sturdy bag for safekeeping (it's like backpack material), a much fancier looking lens hood and a UV protection filter.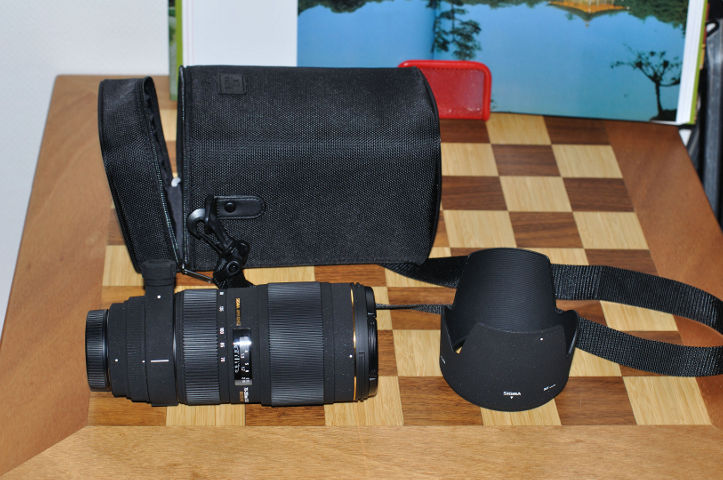 Apart from these things I also bought a 16GB SanDisk SD card and an extra battery for the camera.
Bottom line: expect to see some updates in the photography section as soon as going outside no longer results in losing fingers.
Posted by: Jordi Vermeulen at 23:49 | No Comments | Add Comment
Post contains 270 words, total size 2 kb.
Monday, February 08 2010
My Computers
So I recently bought a new 1.5TB harddrive from Seagate. Installing it into my case was a five minute job, but I could not get it to work in Windows XP (haven't tried Windows 7) without using Windows setup to create a partition on it. If anyone knows a way to make such a partition without first having to use the Windows setup feature (I'm talking about the one you use when you want to install Windows) I would really like to know. Either way it's working fine now.
It did get me thinking though that maybe I should post my system specs, so here they are:
Desktop:
Processor:
Intel Core 2 Duo E8500 @ 3.8 GHz
Cooling:
Corsair H50 water cooling
Memory:
4 GB Corsair XMS2 800 MHz DDR2 (2x2 GB)
Graphics:
ASUS nVIDIA 8800GTX
Motherboard:
ASUS P5N32E-SLI Plus
Harddrives:
Seagate 320 GB and 1.5 TB, Samsung 1 TB
Power Supply:
OCZ GameXStream 600W
Case:
CoolerMaster Stacker 832
DVD Writer:
Lite-On LH-20A1P
DVD Reader:
LG GDR-8164B
For peripherals I use:
Primary Monitor:
Samsung SyncMaster 2494 24" 16:9 1920x1080
Secondary Monitor:
Samsung SyncMaster 931BF 19" 5:4 1280x1024
Mouse:
Razer Lachesis
Keyboard:
some crappy Trust Slimline thing with ridiculous key placement, but it types lovely.
Speakers:
Creative Gigaworks T20
Headphones:
AKG K240 Mk II
Headset:
Creative HS-1000
Printer/Scanner:
Canon MP540
I bought this PC around two and a half years ago, though at the time it had an E6600 instead of the E8500, only the 320 GB harddrive and it lacked the water cooling. I also upgraded my memory from 2x1 GB to 2x2 GB, but I can't use the other 2 modules any more as it makes my system very unstable. I suspect one of the slots in the motherboard is broken, which means that will probably be the next thing I replace.
Laptop:
Manufacturer:
XXODD
Model:
XNi120t
Monitor:
12.1" 16:10 1280x800 touch screen (can rotate 180 degrees)
Processor:
Intel Core 2 Duo P8700 @ 2.53 GHz
Memory:
4GB 800 MHz DDR2 (2x2 GB)
Graphics:
Intel GMA 4500MHD (integrated)
Harddrive:
500 GB 7200 rpm
Misc:
3.5G HSDPA/UMTS module, Dual Layer DVD writer, 7-in-1 card reader, 2.0 MP webcam
The only thing I dislike about the tablet PC/laptop is that the screen makes it very heavy (well over 2 kg). The touch screen is a lot of fun to use though, it is especially nice in GIMP (obviously) and in Firefox if you have an extension such as
FireGestures
installed. Handwriting recognition in Windows 7 is lovely as well, though it seems to have some trouble recognising numbers, especially the 9, 1 and 4; it usually turns them into g, l and u.
Posted by: Jordi Vermeulen at 10:27 | Comments (4) | Add Comment
Post contains 444 words, total size 4 kb.
Sunday, December 27 2009
In the Pipeline #1
I've been watching several anime series over the past weeks, but have not yet found the time to actually write something down about them. However, as the Christmas holidays have recently started, I should soon be able to find the time to write some posts.
So far I've finished watching
Haibane Renmei
, as well as
Cowboy Bebop
and the film
Summer Wars
. I've also been revisiting the
Dragonball
series, so expect a post on that as well. The review of
Love Hina
, which I promised earlier, should also be available soon.
If time permits I might even throw in some reviews of games I've been playing recently, as well as some info on the modding projects I'm involved in.
Posted by: Jordi Vermeulen at 02:10 | No Comments | Add Comment
Post contains 123 words, total size 1 kb.
26kb generated in CPU 0.27, elapsed 0.2146 seconds.
45 queries taking 0.1187 seconds, 106 records returned.
Powered by Minx 1.1.6c-pink.